Adirondacks ACO Data and Performance Tools
Adirondacks ACO provides data reports and tools to our network partners and providers to help them with understanding the characteristics, needs, and utilization patterns of their patient population with the goals of informing quality improvement activities, reducing gaps in care, managing patients with chronic conditions, and understanding the impact on value-based payments.
Hixny Data
Adirondacks ACO uses two primary sources of data for reporting – payer claims and clinical visit data. All data is stored in a secure data warehouse built and maintained by Hixny solely for use by Adirondacks ACO.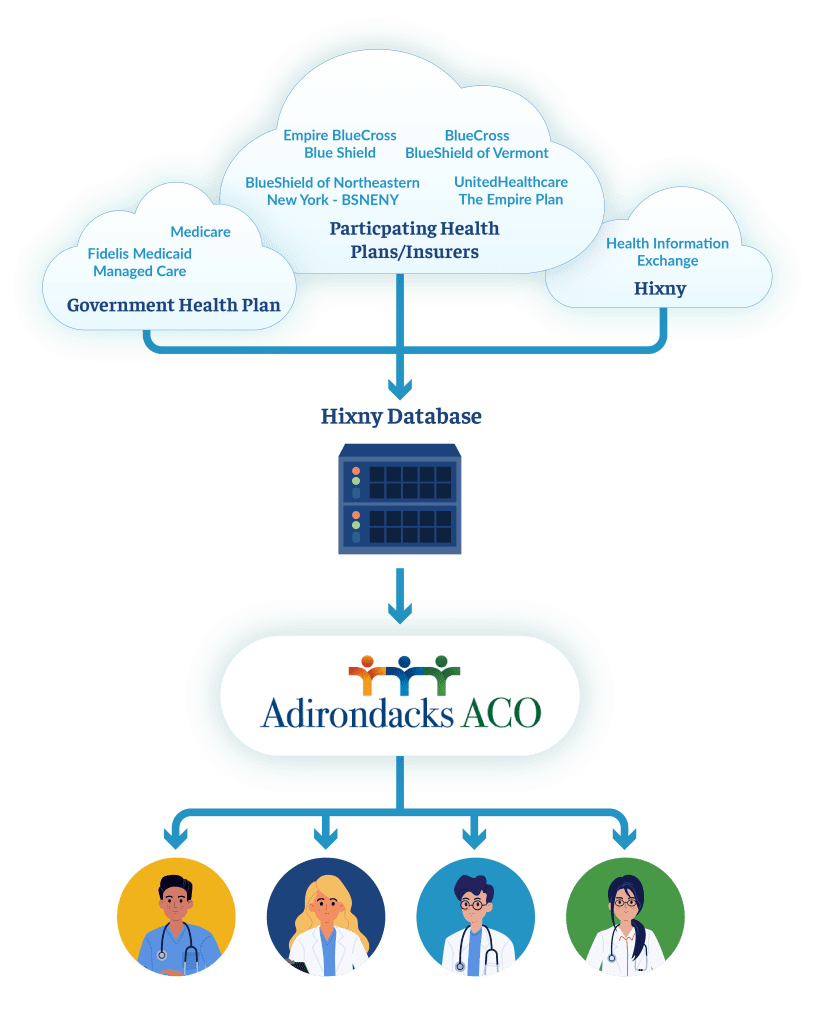 Payer Data
Adirondacks ACO receives this data through business and data use agreements with ACO network providers, payers, and Hixny. The commercial payers securely submit monthly summary claims and patient roster files directly to Hixny for inclusion in the data warehouse, while Medicare data is downloaded regularly by Adirondacks ACO staff from its web portal and securely sent to Hixny. Additional payer data is available through payer-specific portals, providing additional information about the Adirondacks ACO patients' utilization, cost of care, and quality of care.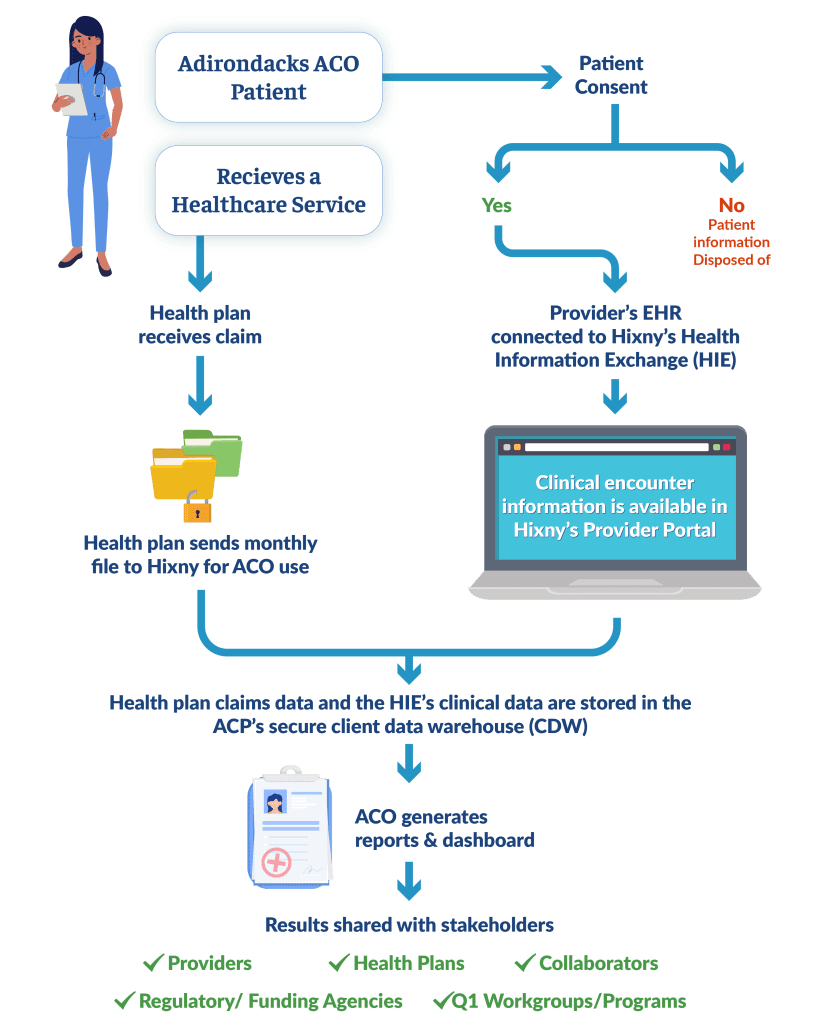 Adirondacks ACO Data Reports
Adirondacks ACO analysts utilize the available claims and clinical data to generate summary and patient-level reports on topics such as care gaps, service utilization, and quality measures. These reports provide providers with insights into areas such as the level and type of patient engagement in care, patients' disease management needs, inefficiencies in the provision of care, and opportunities to decrease costs for patients and increase revenue for providers.
The Wellness Visit Report
Wellness visits – and preventive care in general – are a central tenet of Adirondacks ACO. Preventive healthcare focuses on maintaining wellness and stopping health problems before they occur, instead of waiting to address health issues until they already exist. One of the collective goals of Adirondacks ACO is to keep our members up-to-date concerning vitals, screenings, health risks, advance care planning, and quality metrics through yearly wellness visits.
The Adirondacks ACO data team has developed a Wellness Visit Report to help providers see who among their patient panel needs to schedule a wellness visit and who might have gaps for the calendar year. The report draws upon our claims database for all ACO members ages three years or older.
This report includes lists of provider-attributed patients who are either due for a wellness visit in the next six months or haven't had one in more than 12 months. Adirondacks ACO is hopeful that this portion of the report can serve as a "call list" for office staff. The report also displays a flag if the patient has had certain chronic conditions coded on a claim in prior years but not yet for this year. These flags could act as reminders during an upcoming wellness visit. The Adirondacks ACO Wellness Visit Report is not intended to offer clinical guidance, encourage diagnosis "up-coding," or in any way suggest which codes healthcare providers ought to use with their patients. The data team hasn't employed machine learning but has compared claims with specific diagnosis codes from past years to this year. As with all reports we produce, we hope the Wellness Visit Report is the beginning of a conversation with providers so that we might better support their work.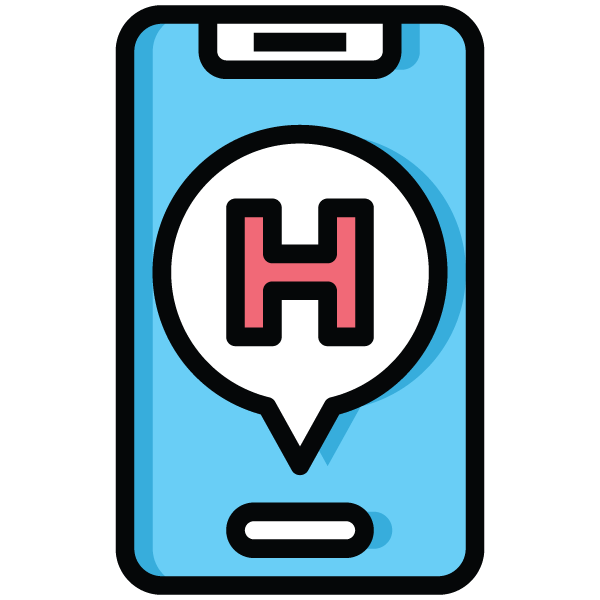 High Emergency Department (ED) Utilizer Report
Emergency department (ED) high utilizers are individuals who go to the ED more frequently than a typical individual, often for non-urgent health issues that could be treated and/or managed in non-acute settings, such as primary care. Research has found that this population often has high health care costs, multiple co-morbidities, unmet needs for social determinants of health, and/or unmet needs for care management. As a way to provide our primary care practices with a comprehensive view of their attributed patients' emergency department visit history, the Adirondacks ACO's data team created and maintains a report that focuses on individuals with more than five ED visits over the prior 12 months. This report consolidates multiple data sources across seven payers into a single report, giving providers access to otherwise disparate information in one location. The report is comprised of two parts: 1) ED visit details, including ED location, service dates, and diagnoses; and 2) Patient care information, including health home enrollment status, primary care utilization history, chronic conditions, and payer-identified opportunities.
Practices can utilize this report to identify individuals who might need health home or care management services or identify patients that haven't connected with primary care for a while to schedule a follow-up. In addition to sharing this report with the primary care practices, Adirondacks ACO also shares this information with our collaborative community-based organizations so that they can help with outreach to those individuals who might need more than just medical care services. We believe this report can bridge hospitals and primary care practices and reconnect patients with their primary care services.
Electronic Clinical Quality Measures (eCQM) Reporting
CMS recently announced that by 2024 all Accountable Care Organizations will be required to submit quality measures via a new Electronic Clinical Quality Measures (eCQM) reporting process. Adirondacks ACO and Adirondack Health Institute are working with the providers to prepare for this transition.
The current process for the annual submission of quality measures to CMS is for the Adirondacks ACO to collaborate with its providers to manually abstract the required measure information for a sample of approximately 2,500 unique patients. This information is then compiled, validated, and finally submitted to CMS via a web interface. With eCQM reporting, measure information will be extracted quarterly directly from each provider's electronic health record (EHR) system for all panel patients that meet the criteria for inclusion in a measure (with no manual abstraction). This information will then be compiled, validated, and submitted to CMS via a web interface.
In order to be successful at eCQM reporting, all EHRs will need to be able to produce patient information in the required file structure using the Quality Reporting Data Architecture (QRDA) concept. The data team is currently collaborating with Adirondacks ACO providers to facilitate the creation of these files by the disparate EHR systems while also building the capability to receive, process, and submit these QRDA files. Some barriers that the team has identified and is working with providers to overcome include:  1) the creation of QRDA files is not consistent across vendors, 2) in some cases, there are additional costs associated with turning on an EHR's reporting capability, and 3) validating, aggregating, and processing these files across the network is complicated. Once implemented, however, this capability will free up valuable time for clinicians and support staff and let our partners focus on patient care instead of regulatory abstractions.
Social Determinants of Health (SDoH) Report Preview
The medical community has been increasingly discussing the importance of social determinants of health (SDoH). The World Health Organization (WHO) Global Commission published a report in 2008 on SDoH and the importance of identifying them. The WHO report showed that social factors, such as education, income, employment, family circumstances, etc., are at the heart of inequality in life expectancy, and subsequent research has shown that SDoH impacts a range of diseases from cancer to COVID-19.
In this context, Adirondacks ACO created the Social Determinants of Health (SDoH) Report to assist our network partners and providers in navigating SDoH with their patients. This report looks at Adirondack ACO member claims for SDoH from the past 12 months, including problems related to literacy, education, employment, income, family, upbringing, social environment, housing, pregnancy, incarceration, neglect, and abuse. The SDoH Report also includes a snapshot map of claims by zip code for each provider organization as a way to show approximately where their patients with SDoH claims live. Overall, this report aims to illuminate and summarize SDoH claims for our providers to give them a more complete picture of their patients' needs and assist in linking them more easily with nearby services.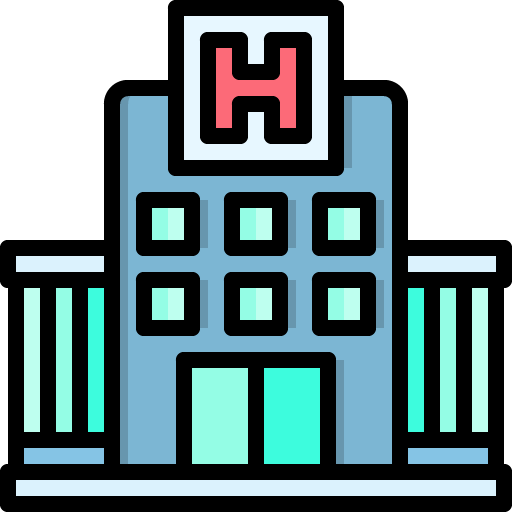 Adirondacks ACO
Network Participants
Adirondacks ACO is an Accountable Care Organization (or ACO) made up of groups of doctors, hospitals, and other health care providers, who all work together to deliver high-quality, coordinated care.
We currently include more than 800 participating doctors, clinicians, and other health care professionals throughout Clinton, Essex, Franklin, Hamilton, Warren, Washington, and northern Saratoga counties of New York.
Click Here