AIM of Adirondacks ACO

The goal of Adirondacks ACO is to focus on creating healthy communities in the Adirondacks and northern New York regions by building a sustainable rural health care system. We aim to improve the health and wellbeing of all our communities by collaborating with providers, clinicians, and other health care professionals to deliver the highest-quality care, at the most optimal cost, for the people of the region.
We achieve this by working with insurance companies and our healthcare community to collect quality and cost metrics data. These metrics promote evidence-based medicine, encourage patient engagement, and increase the focus on whole-person wellness — all in an environment that supports our participating providers.
The Adirondacks ACO model is made up of four essential priorities that we refer to as the "Quadruple Aim" of the ACO…
Improve the quality of care in our communities
At the Adirondacks ACO, we continually look for improvement opportunities that may not be obvious for our network. We identify these opportunities by utilizing data from our network and our federal and commercial health plan partners. With the findings of this information, we analyze and develop the best practices for improvement. This information is then shared via interactive reports and implemented among our hospitals, independent medical practices, and community providers to help support providers as they work toward common goals for the region, a healthier community.
Increase patient satisfaction
We love our communities, and we want them to thrive and be happy and healthy. We continue to work vigorously to ensure that patients are getting the right care at the right time, in the right location. We understand that access to health care is challenging in rural areas such as northern New York and Adirondack's region, so we have created partnerships to offer patients more accessible and integrated community-based resources. We strive to understand patients' needs and help providers improve their care. We look at not just patient health but the person's overall wellbeing. We know that when patients are well cared for, and when we focus on prevention and disease management in addition to treatment for illness and injury, patients live happier, more fulfilling lives.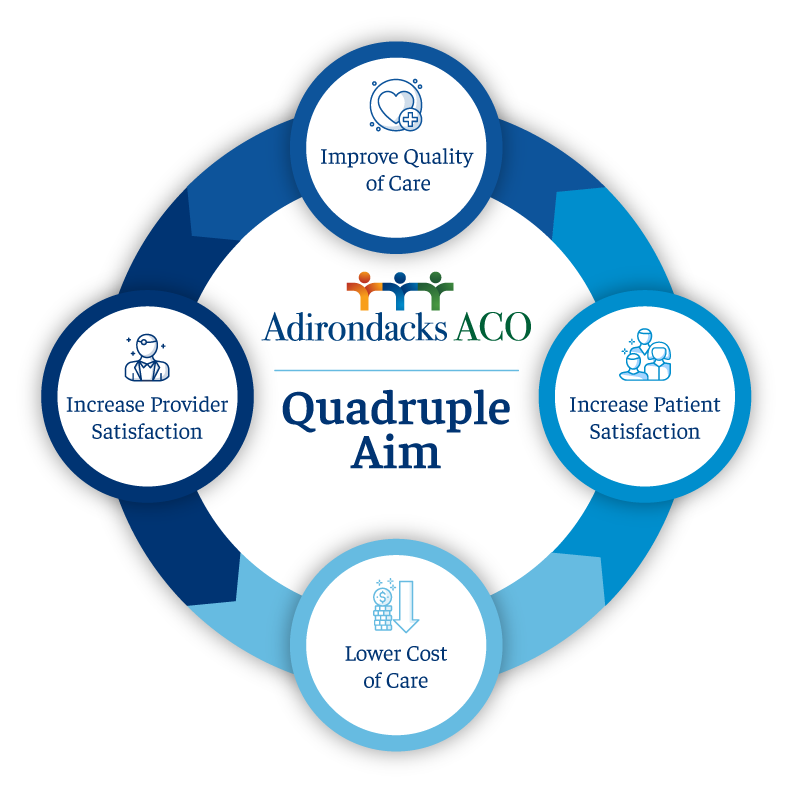 Increase provider satisfaction
Providers, clinicians, and other health care professionals want to help and heal people, and we want them to have the time to give the best quality of care and not be overwhelmed with administrative bourdons. The goal of Adirondacks ACO is to support our provider teams by giving them the tools they need so they can spend more time with patients, delivering care. In a traditional fee-for-service payment system, the focus is on sickness care rather than wellness and health care. Providers generally are paid by the appointment and not for the outcome. We feel that partnering with insurance companies like Medicare, Medicaid, and commercial payers under a value-based payment (VBP) model helps change the incentive to keep our community healthy. The network is then rewarded with shared savings.   Positioning the focus on value, not simply volume.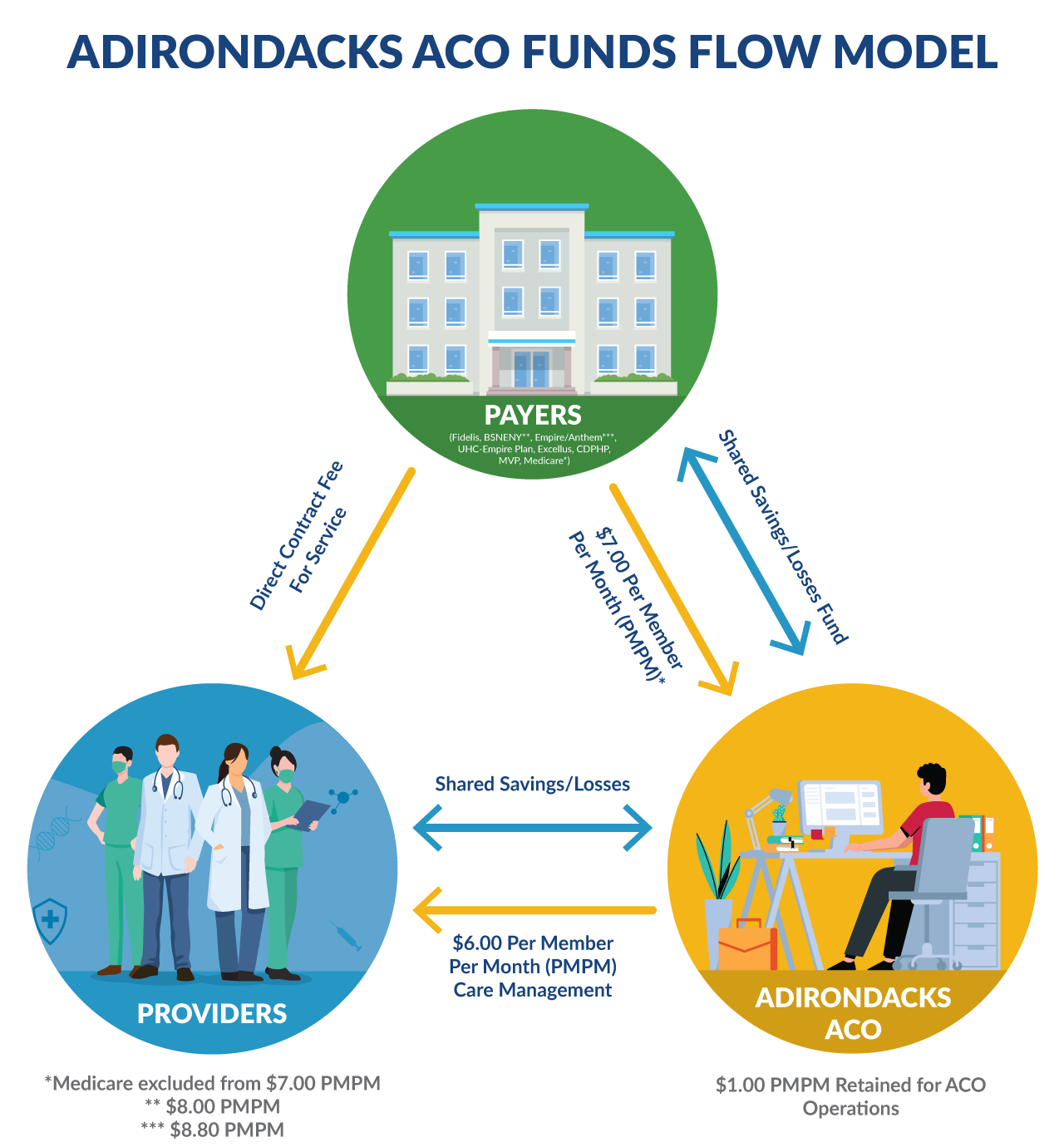 Make healthcare more efficient and cost-effective
Adirondacks ACO understands that when the cost of health care increases, families feel it. This means that it can ultimately deter some from seeking treatment when they need it most, leading to poor health. We want all individuals in our network to get the care they need and not have to worry. By working together with insurance companies like Medicare, Medicaid, and commercial payers, we look to make the system more efficient and cost-effective by paying for results instead of just medical transactions. We do this by helping our participating providers create a patient-centered environment focused on health outcomes rather than procedure volume. This approach is called value-based care, a model that ties quality measures to payments to promote excellent care for our network. In the long run, this will help reduce the cost of healthcare over time in our communities.
What is Value-Based Care?
Our main focus is moving our network from a volume-based to a value-based system. This volume-based model, commonly called fee-for-service that we commonly see in the health care industry, rewards the providers for seeing as many people as possible and ordering as many tests as possible. This ultimately drives up the total cost for health which impacts society as a whole. We achieve this by focusing on quality and intervention, ultimately lowering costs while delivering better health care.
Interested in joining Adirondacks ACO?
We are currently accepting new provider applications for Franklin, Clinton, Essex, Hamilton, Warren, Washington and Northern Saratoga Counties of New York.
Get more information on the process of joining Adirondacks ACO and help us build a better state of care. 
Contact Us