Contract & Network Update
The New Social Determinants of Health (SDoH) Report is Now Available to Providers
The SDoH Report, Version 1.0, is now available on the ADK Share Portal in a new Social Determinants of Health folder. Each organization has an authorized individual with access to the Portal who can download the report.
Background
As we all know, SDoH play a big role in our ability to help our patients and their families manage chronic disease.  While practices screen for SDoH, "Z" and "T" codes are not always utilized to fully capture the complexity of working with these patients and families. This report leverages those codes to help you understand and act upon the SDoH in your patient population.
Why did we create the SDoH Report?
The aim of this report is simple: To share with you an overview of your patients' SDoH claims in a 12-month period(OCT 2020 – SEP 2021 for Version 1.0). In addition to the SDoH summaries and claims details, the report also includes a ZIP code map to show approximately where individuals live so they might be linked more easily with nearby services.
What is included in the SDoH Report?  After an introductory tab, there are five more tabs in the report, as follows:
"SDoH TIN Summary" – This tab summarizes your patients' claims in three ways:

Top 5 SDoH by count of claims – Indicates the SDoH codes (or categories of codes) that were used in the greatest number of claims during the 12-month period.
Top 5 SDoH by count of individuals – Indicates the SDoH codes (or categories) that were assigned to the most patients during the 12-month period.
Top 5 providers who assigned their patients SDoH codes – Indicates which providers diagnosed the most patients with SDoH during the 12-month period.
"Most common code by member" – This tab lists each of your SDoH patients, sorted in descending order by the number of SDoH claims. A red header flags the field containing the SDoH code most often used for each patient.  Other fields of particular interest include:

Date of each patient's most recent SDoH claim
Number of office visits they've had in the 12-month period
Attributed provider based on the ACO's customized model, which prioritizes recent visits with a PCP
Patient's home ZIP code
"Map of SDoH Members by ZIP" – This tab shows a static map of the ZIP codes where your SDoH patients live. This map is not interactive – clicking on it won't do anything – but it gives you an idea of how spread out your patients are. This tab also displays the diagnoses from each ZIP code.
"All clms incl office visit prov" – This tab lists all SDoH claims for your patients during the 12-month time period. Each row represents one individual, for one service date, with one diagnosis. Many patients will have multiple rows. If a patient has more than one diagnosis in the same day, there will be two rows for that date. Other fields of note include…

Servicing provider: name and location of provider who assigned the SDoH diagnosis code
Office visit: provider, location and date of most recent office visit
Feedback Encouraged
As this is our first attempt at the SDoH Report, we would greatly appreciate your feedback. We hope you'll let us know whether you find the report useful and how we can improve it in the future.  Feel free to contact Lisa Cyphers or Brenda Stiles with any feedback, questions or concerns. Thank you for your time.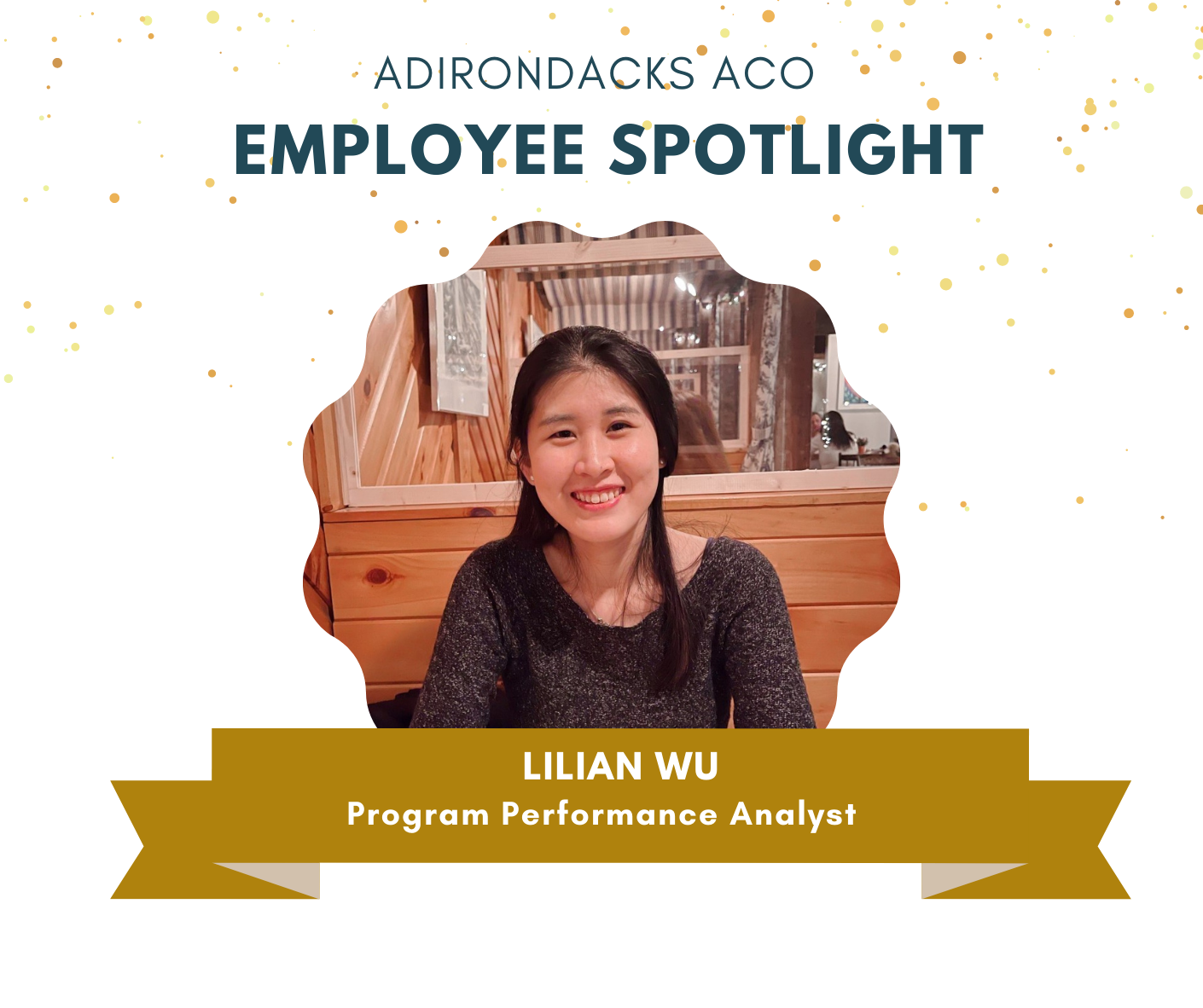 Lilian Wu is the Program Performance Analyst at Adirondacks ACO. Her role entails supporting the ACO's financial performance by focusing on service utilization and strategic analysis for our payer contracts, reporting her findings to the network stakeholders, ACO committees and the Board of Managers.  In 2021, she assisted in building a COVID -19 vaccine tracking dashboard for the north county region, supporting the region's vaccination efforts.  This dashboard was recognized across the state as a best practice with our response to the pandemic.
In collaboration with our Northwinds IPA partners, we have recently developed the QUIC (Quality Utilization and Integrated Care) dashboard, which offers each Northwinds partner organization a view of patient care gaps and quality measures performance.  Lilian will provide overall management and support of the QUIC dashboard for the ACO and our Northwinds IPA partners.
Prior to her work here at Adirondacks ACO, she worked for the University of Pittsburgh Medical Center as a project manager. A native from Taipei, Taiwan, Lilian loves helping people and is always eager to take on any data challenge! Outside work, Lilian is a skilled artist and for fun illustrates children's books. When she is not drawing, she loves to be in the kitchen baking or cuddling up with her cat.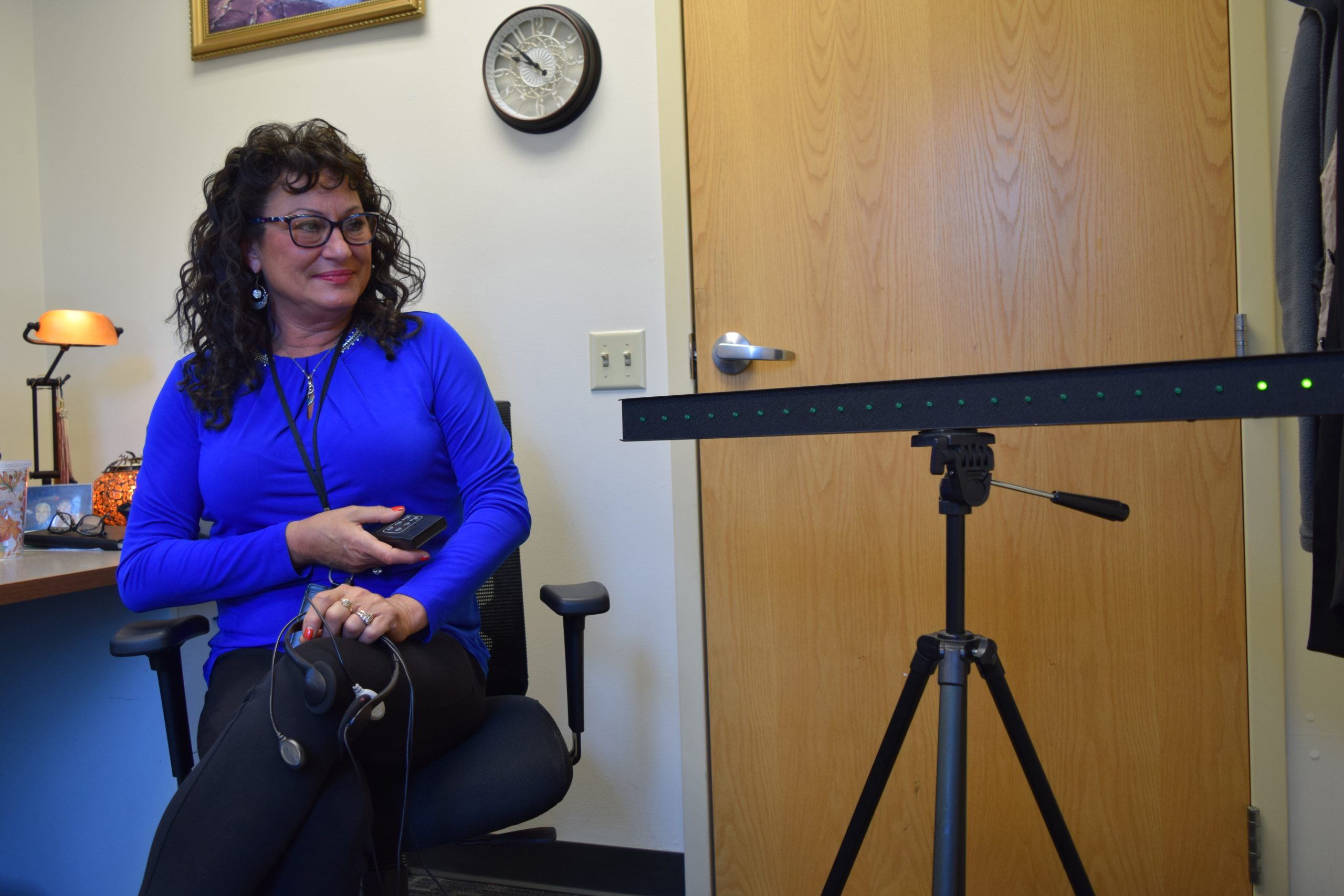 In commemoration of May as Mental Health Awareness Month, Citizen Advocates is highlighting the trailblazing work of its clinicians in the field of Eye Movement, Desensitization and Reprocessing therapy.
Commonly referred to as EMDR, it is a type of therapy that uses visual, auditory or tactile stimulation in a left-to-right rhythm across the two sides of the body.  EMDR helps patients identify feelings, thoughts or images that are associated with a traumatic memory; desensitize those ideas; and then reprocess how the ideas relate to the memory.
"I always start by asking a patient: 'What keeps you from living the life you want to live?'" said Terrianne Yanulavich, LMHC, Ph.D., Citizen Advocates' Clinician Team Lead, Supervisor.  "The answer to that question boils down to the event, the trigger, the trauma.  EMDR takes away the awful feeling associated with trauma, not the memory itself."
EMDR was developed by psychologist Francine Shapiro in the late 1980s after noting the therapeutic effects on herself while watching birds flitting back and forth during a walk in the woods.  Ms. Yanulavich received her training under Ms. Shapiro and has been certified to practice EMDR since 2003. She is one of five EMDR-trained clinicians at Citizen Advocates providing this vital service to the North Country.
To contact Citizen Advocates, or learn more about EMDR visit www.CitizenAdvocates.net

Prenatal/Postpartum CPT II Code Incentive Program
Excellus BlueCross BlueShield reminds you that you have an opportunity to earn a $15 financial incentive for each claim submission that includes a CPT II code related to certain prenatal/postpartum services. Eligible CPT II codes are: 0500F or 0501F, and 0503F. This incentive will apply to Excellus BCBS Commercial and Safety Net members (Medicaid Managed Care, Child Health Plus, Healthy NY and Essential Plan). Incentives may not be payable on all BlueCard claims. Excellus BCBS reserves the right to unilaterally terminate or modify this program at any time.
Please submit claims using CPT II codes as defined below, along with the date of service and date of the last menstrual period (LMP), and a $15 charge. (If the charge submitted is less than $15, the full $15 incentive will not be paid. Our claim system will pay the lesser of your charge or our $15 allowance.) The LMP should be added to Field 14 on the 1500 form. Submit the claim after the visit is completed or include it on your global bill.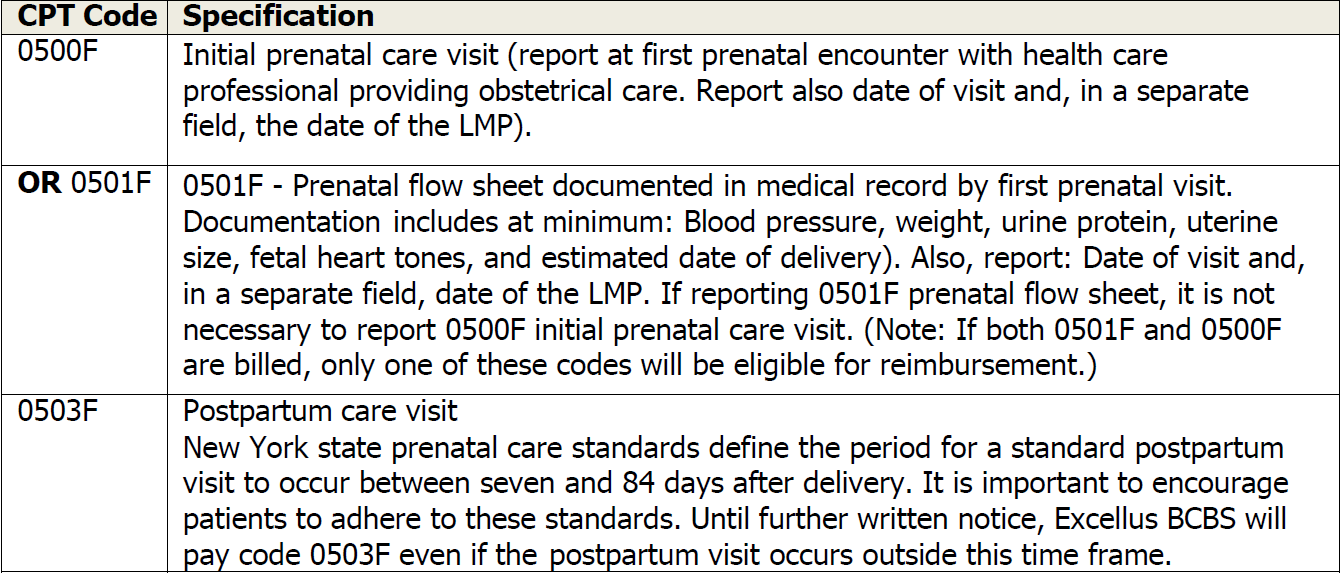 Please keep in mind that including these CPT II codes on claims not only helps us to gather necessary data and provides you with an opportunity to earn a financial incentive, but also has the potential to diminish the number of chart review requests that you receive.
For additional information, visit https://provider.excellusbcbs.com/resources/clinical/hedis-measures for a helpful tip sheet. You will need to log in to access this information.
If you have questions, please contact your Provider Relations representative.
Prenatal and postpartum care is essential to the health and well-being of your patient and her new baby, and it is an important aspect of your practice. As a health plan, we have a responsibility to ensure that this important care is delivered on a timely basis. Using correct CPT codes for these services is an important step toward helping each of us achieve our goal in the most efficient and effective manner.
** This training is provided on behalf of Adirondack Health Institute through a partnership between JBS, International and ArchProCoding under HRSA's Federal Office of Rural Health Policy Rural Communities Opioid Response Program (RCORP), Grant No. U6BRH32364.