Contract & Network Update
Adirondacks ACO 2021 Annual Plan
Adirondacks ACO has developed our 2021 Annual Plan. We have focused our work in five Key Performance areas with defined initiatives in each of the areas. We have assigned accountability to staff and connected the initiatives to our newly formed Population Health Advisory Committee Work Groups.
For more information on the Annual Plan, Click HERE
Citizenship Criteria
Adirondacks ACO has continued to develop our Citizenship Criteria based on our experiences in 2019 and 2020. Meeting the Citizenship Criteria has the potential to impact each participants' shared savings and loss each year. The ADKs Board of Managers recognizes that to continue to improve quality and patient engagement as our network expands it is crucial that each network provider is an engaged and active participant. Our 2021 Citizenship Criteria focuses on quality, care coordination, provider and staff engagement, and compliance.
Criteria 1: Quality
Provide at least one quality improvement initiative including data in the NCQA format
Close a majority of high priority care gaps prior to November
Demonstrate consistent and appropriate use of codes to document care for depression screening, hypertension, and diabetes as evidenced by improved gap closure rate
Criteria 2: Care Coordination
Use of risk stratification either through participation in North Country Care Coordination Collaborative or through the organization's own system
Participate in risk coding initiative
Criteria 3: Engagement
Providers: Attend Provider meeting or ACO Quality/Training meeting
Staff: Attend two ACO Quality/Training Meetings
Criteria 4: Compliance
Signed ACO compliance attestation
All providers and staff complete one required compliance training
Organizational performance on Citizenship Criteria will impact 30% of the allocation of your shared savings or risk pool. Each criteria has a point allocation and overall performance will determine the percentage of the citizenship pool eligible to that organization. Each item counts, so please be sure to sign in at meetings to get credit for participating. In February 2021 we will be reporting out on the 2020 Citizenship Criteria results. Improving connectivity with the ACO and other ACO network providers will improve our performance in value-based contracting thus a strong Citizenship score supports the success for all of us.
Tips for Verifying Attendance/ Participation to Meeting Citizenship Criteria
When you attend a training or meeting that meets the Citizenship Criteria led by the Adirondacks ACO team and/or in collaboration with a payer please make sure that you sign in on the form that will be located in the chat.  The form is how the Adirondacks ACO will keep track of your fulfillment of the Citizenship Criteria. The Adirondacks ACO staff will provide instruction on how to access/ use the form located in the "chat" box to verify attendance.
Quality & Performance Update
ADKs ACO Quality Measurement Changes for 2020 and 2021
The ADKs ACO team recognizes the challenges the pandemic brought during 2020.  We watched practices transform how they delivered care from in person to telehealth, very quickly to ensure patients in the community were getting their personal health needs met without putting them at risk.  The switch in how you delivered care created workflow and documentation changes, billing  and staffing challenges to name a few.  At the same time that your practice worked through these challenges you were able to successfully submit and maintain your NYS PCMH recognition, which is a great accomplishment.
The ADKs ACO team worked with our payers to address the 2020 Quality Benchmarks that were established in December of 2019, prior to the pandemic.  The following are the changes that our team negotiated.
Fidelis (MCO and HARP)—better of 2019 or 2020 based on individual metric compared to 2019 QARR
The Commercial Payers agreed to the following for 2020 (Scoring rationale located below):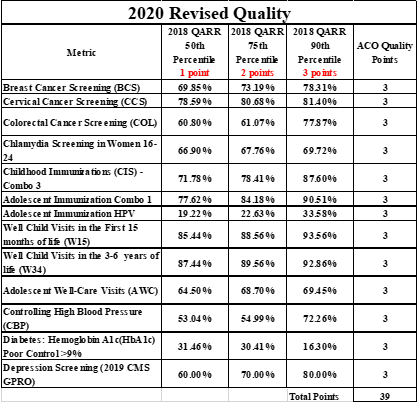 Our performance is scored in a tiered approach, utilizing the 2018 QARR Benchmarks.
The scoring is as follows:           
1 point for meeting or exceeding the 50th Percentile
2 points for meeting or exceeding the 75th Percentile
3 points for meeting or exceeding the 90th Percentile
Overall performance will be calculated on the Total 39 points which is equal to 100%.
For measurement year 2021, the Quality Benchmarks will follow the same scoring methodology as 2020 utilizing the 2019 QARR Benchmarks.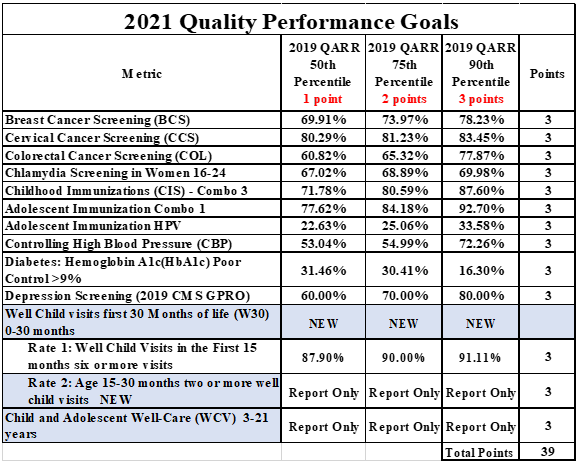 Thank you for your tireless efforts to support our patients and communities during these uncertain times.  If you have any questions please reach out to Brenda Stiles, 
bstiles@cvph.org
.
Data Abstraction for Measurement Year 2020
The ADKs ACO data abstraction team has begun the process for submission to CMS and commercial payers for measurement year (MY) 2020.  The team will be abstracting data from over 4,600 charts. The deadline for data submission is February 19, 2021.  The team will audit submitted data for accuracy, completeness, location of patient charts, along with locating data to improve our overall quality score.  The patient list is based on CMS claims received during the third quarter of Measurement Year (MY) 2020 from the ACO's participating providers.  In MY 2019, we successfully found 2,700 charts out of 2,701.  We are very fortunate and appreciative for the dedicated team of abstractors who collaborate across the region to support the ACO's efforts to collect the required data.
ACO Spotlight

Over the last three years, Comfort Food Community and its community health program has worked to provide more than just-food. Roughly one-fifth of Washington and Warren County's residents are considered food insecure. Chronic illnesses, such as heart disease, diabetes, COPD, and others, are rooted in and exacerbated by food insecurity and the lack of access to nutritious options. With the COVID-19 pandemic, food access, health resources, and community services saw an increasing demand. Building upon food as health research and the social determinants of health, the community health team continues to provide nutritional and culinary education, resource navigation for individuals and families, and food resources to visitors at the market table.
Partnering with CDPHP and the Glens Falls Farmers Market, CFC launched its produce prescription program for its members in the greater Glens Falls area in March. CFC works with CDPHP to identify low-income individuals experiencing chronic illnesses and provides financial incentives, culinary information, and ongoing market support. CFC's produce prescription works with local businesses and farms to provide vouchers for individuals to purchase fresh produce, dairy and eggs, meat and seafood, and a variety of value-added items, such as dried herbs and honey. In the final six months of 2020, CFC saw nearly 1500 individuals at the Glens Falls Farmers Market, directed more than $30,000 to local farms and businesses through the produce prescription and Fresh Food Farmacy project, provided around 100 referrals to local food and health resources, and offered over 400 culinary and health education across its programs. Importantly, more roughly 30,000 pounds of food move through the community health program.
While continuing to evaluate its short-term and long-term implications, Comfort Food Community remains committed to providing culinary and health education, resource navigation, and connecting individuals and families to the resources that they need. The community health team is continuing to provide culinary and health resources through the entirety of the organization's programs—the food pantry services, Farm-to-Library, Fresh Food Farmacy and community outreach at Hudson Headwaters, Edible Education, and Fresh Food Collective's Mobile Pantry. Partnering with CDPHP and others has allowed Comfort Food to expand its reach, assist more individuals and families, and develop a more robust approach to addressing food insecurity.
For more information on Comfort Food Community, Click HERE

COVID-19 Emotional Support Helpline
NY Project Hope is New York's COVID-19 Emotional Support Helpline. This resource is available for you, your staff and the people that you serve. NY Project Hope helps people understand their reactions and emotions during COVID-19. Through an emotional support helpline, educational materials, and trusted referrals, NY Project Hope helps people manage and cope with the changes brought on by COVID-19. Project Hope has Crisis Counselors available to help people process what they are going through. Talking to them is free, confidential, and anonymous. This is an opportunity to talk to someone who is trained, knowledgeable and never judges. Sometimes it helps to talk with someone you don't know.
Emotional Support Helpline: 1-844-863-9314
Local resources are also available from a Northwinds Network Provider: https://nwihn.com/network/
COVID-19 Resources
CDC COVID-19 Vaccination Communication Toolkit, Click HERE.
NYS  Department of Heath COVID-19 Vaccination Information for Providers, Click HERE.
NYS  Department of Heath COVID-19 Vaccination  Enrollment, Click HERE.
CVPH COVID-19 Information for Health Care Providers, Click HERE.