Contract & Network Update
Medicare Shared Savings Program (MSSP) Change for 2022
CMS will allow ACO's participating in the MSSP BASIC track's glide path the option to elect to forgo automatic advancement along the glide path's increasing levels of risk and potential reward for performance year (PY) 2022.
Under this policy, an eligible ACO may elect to remain in the same level of the BASIC track's glide path in which it participated during PY 2021. For PY 2023, an ACO that elects this advancement deferral option for PY 2022 will be automatically advanced to the level of the BASIC track's glide – the ADK 5 year path:
                                                        ADK's Glide Path                                                            CMS Glide Path                             
                                                    PY2020 – B (skipped A)                                                        PY2020 – A
                                                                 PY2021 – B                                                                      PY2021 – B
                                                                 PY2022 –  B                                                                     PY2022 – C
                                                                 PY2023 –  E                                                                     PY2023 – D
                                                                 PY2024 –  E                                                                     PY2024 – E
Management recommended that ADKs ACO  remain at Level B for PY 2022 and forgo downside risk for another year.  The Board of Manager's approved this recommendation at the August 25, 2021 board meeting. Discussions will need to begin on a shared approach for repayment mechanisms for assumed increased risk in PY 2023.
ADK will be required to move to Level E in 2023:
Shared savings rate – 1st dollar sharing once MSR is met or exceeded.
Shared loss rate – 1st dollar losses at 30%, not to exceed 8% of revenue capped at 4% of benchmark in 2019 and 2020.
Loss sharing limit – calculate 8% of the ACO participants' total Medicare Parts A and B FFS revenue and 4% of the ACO's updated benchmark expenditures. The loss sharing limit is the lesser of those two amounts.
Deadline Approaching for Beneficiaries Selecting a Primary Clinician to be Prospectively Assigned for PY 2022 Based on Voluntary Alignment
Medicare beneficiaries are prospectively assigned to an ACO if the primary clinician to which they voluntarily align is an ACO clinician. The deadline for beneficiaries to select their primary clinician on Medicare.gov and be included in an ACO's PY 2022 prospective assignment list is September 30, 2021. Medicare beneficiaries may continue to select their primary clinician after September 30, 2021, but that selection will be used for prospective assignment to an ACO for PY 2023. A beneficiary who selects their primary clinician after September 30, 2021, is still eligible for claims-based assignment to an ACO for PY 2022.

Adirondacks ACO Fall Provider Meeting
Date: Wednesday, October 27, 2021
Time: 5:30 p.m.
Where: Virtual Meeting
Despite the unprecedented events of 2020, Adirondacks ACO's network of providers continued providing high quality care. We improved many quality indicators and realized shared savings in most contracts including Medicare for the first time. Join us at the fall Provider meeting to review our 2020 performance and get feedback from you on how we can support your work.
For more information contact Meg Henning
Quality & Performance Update
Adirondacks ACO Receives $3M in Savings from the Medicare Shared Savings Program
Despite the difficulties of CVOID-19, Adirondacks ACO providers focused on serving their patients and continued to provide high quality care throughout the pandemic. As a result, for 2020 we increased our overall Medicare Quality Score and that translates to receiving 39% of the possible 40% of our total savings.
Total quality score: 97.19% in 2020, improved from 93.69% in 2019
Total savings: $7,879,019 in 2020, improved from $229,309 in 2019
 Eligible Shared Savings: $3,062,968.50 in 2020, improved from $0 in 2019
In the Care Coordination/Patient Safety domain we earned 7.70 out of 8 points. There were strong improvements in the Risk-Standardized Acute Admission Rates for Patients with Multiple Chronic Conditions measure and Ambulatory Sensitive Condition Acute Composite measure. One area that did see a significant decline is Falls: Screening for Future Falls Risk measure went from 83.81 in 2019 to 77.15 in 2020.
In the Preventive Health domain we earned all of the possible 12 points. The ACO made improvements in four out of the six measures. Influenza Immunization, Colorectal Cancer Screening and Breast Cancer Screening saw significant improvement earning Quality Improvement Reward points. One measure saw significand decline, Screening for Depression and Follow Up Plan dropped to 74.64 in 2020 from 80.89 in 2019.
In the At-Risk Population domain we earned 5.55 out of 6 points. In 2020 ACO providers made improvements in Controlling High Blood Pressure and Hemoglobin A1Cs but saw a significant decline in Depression Remission at Twelve Months.
According to the National Association of ACOs (NAACOS) overall the Medicare Shared Savings Program ACO model served 10.6 million seniors in 2020 and collectively achieved $4.1 billion in gross Medicare savings, and $1.9 billion after accounting for shared savings payments. They achieved an average quality score of 97.8%.
2020 Quality Results – Practice and ACO Scorecards
Your practice performance scorecard is now available on the ACO's secure portal, in the folders Quality/2020 Scorecard.  The scorecard includes your Medicare, Fidelis and Commercial results for the 2020 performance year, with the overall ADKs ACO performance.
You will see the denominator included with each measure, indicating the number of patients that met the inclusion criteria as established by HEDIS, including continuous enrollment. Please note that due to the continuous enrollment criteria the denominator may not truly reflect your panel size. We recognize that when you look at your patient panel for preventive care you focus on all patients without regard to their status of continuous enrollment. If you have any questions regarding the information please feel free to reach out to Brenda Stiles.
Here is a look at the ACO wide results quality measure results for all payers.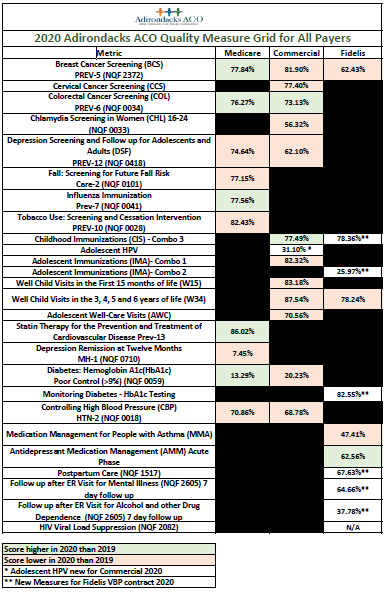 Medication Adherence vs. Medication Compliance
We have several quality measures that are related to medication adherence, such as statin therapy, and antidepressant medication management for example.  In general conversation it is common to hear adherence and compliance used sometimes interchangeably, but there is a distinct difference.  Medication adherence is the actual filling or refilling a prescription on time.  Medication compliance is actually taking the medication as prescribed or on a schedule.  Each have their own barriers.
There are many medication adherence challenges.  To name a few:  the patient's ability to pay for medications; low health literacy; access to pharmacies and inability to track refills if on a number of medications. Ways that we can improve adherence: is having open conversations whether a patient can afford their medication and if they have access to a pharmacy; prescribing generic medication; connecting patients to prescription assistance programs and utilization of their online prescription pharmacy if part of their health plan.
Medication compliance challenges are patient's fear of side effects, no sign of improvement, inability to manage numerous prescriptions and lack of understanding how to take the medication appropriately.  Compliance issues for each patient is very different and the medication regimen has to be tailored to their needs.  Ways to assist with compliance: is to assess whether they are taking their medication on a schedule and as prescribed; review changes and possible side effects; educate on the importance of taking the medication on time and utilization of pill boxes/digital alarm dispenser etc. to aid in their compliance plan.
Patients with COPD face challenges in both medication adherence and compliance.  Many of our patients who have COPD are required to maintain a rigid mediation regimen to manage their disease process, juggling multiple prescriptions requiring managing dosing thru the day.  Another large barrier is the cost of their medications especially their inhalers.  Our COPD patients whose disease has progressed to requiring prescribing dosing of the three different inhaled medication classes is there the ability to utilize one medication, not only to decrease the complexity of their medication regime but also decrease the cost to the patient.  Decreasing the challenges a patient may experience in managing their disease process, with medication adherence and compliance will lead to better outcomes for all.
Please find the PDF from Excellus "Optimizing Inhaler Selection for Improved COPD Value Based Outcomes" from their summer newsletter edition.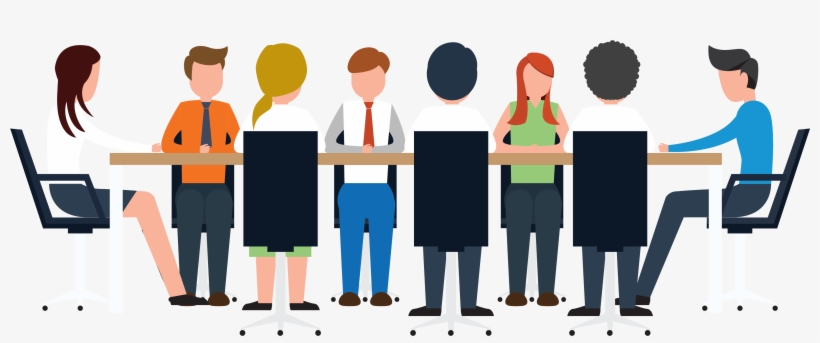 ACO Provider Office Hour

Join us as Jill LaRose, Provider Partnership Associate, from Fidelis will review the patient incentives Fidelis offers and how to use the incentives to engage our patients.  She will update on the ADK ACO / Fidelis collaboration regarding the nonuser opportunity lists practices have been working on.
Date: September 22, 2021
Time: 12:15 PM – 1:00 PM
For more information, contact Brenda Stiles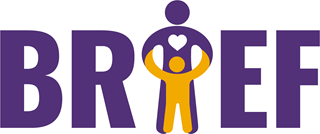 Essex County has had an effective Multi-Tier approach to the mental health system for many years. With the implementation of Trauma-Informed Care initiatives over the past few years, we quickly learned that the Multi-Tier approach tends to be more reactive in focus and less proactive than what many children and family providers in Essex County were looking for. Also, the Tier system was not set up to establish programs and initiatives for ALL families; just those with "high needs," and more importantly, our current system was disconnected from schools and the general community. We recognized that our current structure lacked sustainability across the life span and we wanted to improve the lives of those in our beloved county.  
We envision that "All families in Essex County will reach their full potential and achieve wellness" and our mission is that "BRIEF will promote a proactive system that focuses on education, encourages empowerment, builds resilience, and reduces stigma for all families in Essex County." We want to help families become strong and independent, driven by the philosophy of "Give a man a fish, and you feed him for a day. Teach a man to fish, and you feed him for a lifetime" (Maimonides).  
We are most excited to have over 30 active and enthusiastic members of BRIEF including representatives from DSS, the health department, mental health, Head Start, case management organizations (adult and children), local hospitals, probation, Sheriff's department, Community Services Board, Board of Supervisors, SPOA, DDSO, schools, BOCES, substance abuse and prevention, youth commission, nurses, pediatric case managers, and family peers.  
It is heart-warming to observe people coming together and working together toward improving Essex County communities.
For more information please contact: 
Terri Morse, LMHC, CASAC-Master
Director Essex County Mental Health and
7513 Court Street, PO Box 8
Elizabethtown, NY 12932
Phone: 518-873-3670
Vatica Health: Your risk adjustment and quality of care solution
Vatica Health is built by physicians for physicians and offers the only risk adjustment solution that is designed to help providers, health plans, and patients achieve better outcomes, together.
As a proud partner of Irongate Family Practice, Vatica Health and its 6,000+ physicians work together to improve quality of care, boost efficiency, and increase profitability — at no cost to you.
Hear from a few of Vatica's physicians:
 All of this is possible because you are a provider within the Adirondacks Network. Here are some of the top benefits that you will receive:
EMBEDDED SUPPORT: Dedicated clinical and administrative resources that do 90%+ of the work for you
EFFICIENT WORKFLOW: Flexible and seamless integrations into your workflow
: Easy-to-use and powerful technology that drives more accurate coding, documentation, and care gap closure
: Better financial performance, better clinical performance, and better patient experience
Start your onboarding today by contacting McKenzie Venetz at mvenetz@vaticahealth.com.
Excellus BlueCross BlueShield 2021 Fall Seminar Schedule
Join the Excellus BlueCross BlueShield Provider Relations team virtually for the 2021 fall seminar. You'll gain valuable information on the latest administrative and operational updates, industry news, what's new for 2022 and more!
Visit Provider.ExcellusBCBS.com/resources/management/staff-training to register for one of the following sessions:
November 3, 2021
▪ 9:00 – 11:00 AM
▪ 1:00 – 3:00 PM
November 4, 2021
▪ 9:00 – 11:00 AM
▪ 1:00 – 3:00 PM
November 9, 2021
▪ 9:00 – 11:00 AM
▪ 1:00 – 3:00 PM
November 10, 2021
▪ 9:00 – 11:00 AM
▪ 1:00 – 3:00 PM
HHS Announces the Availability of $25.5 Billion in COVID-19 Provider Funding
The U.S. Department of Health and Human Services (HHS), through the Health Resources and Services Administration (HRSA), is making $25.5 billion in new funding available for health care providers affected by the COVID-19 pandemic. This funding includes $8.5 billion in American Rescue Plan (ARP) resources for providers who serve rural Medicaid, Children's Health Insurance Program (CHIP), or Medicare patients, and an additional $17 billion for Provider Relief Fund (PRF) Phase 4 for a broad range of providers who can document revenue loss and expenses associated with the pandemic.